Blockchain for Educational Regulators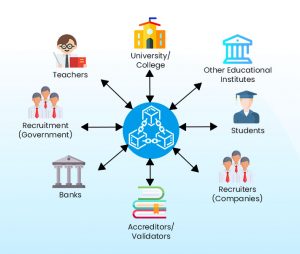 The Educational sector ought to evolve constantly to stay updated with the latest effective teaching and learning methods. Every decade is a witness to a unique system of imparting education and making it simpler and immersive. From Gurus dictating verses in Gurukul to slate boards to textbooks and finally inception of digital learning. Internet, videos, and E-Learning platforms have revolutionised the educational sector, making it more accessible and meticulous. The recent boom of
blockchain
has also compelled educationists to comprehend its varied applications in education. The tedious record maintenance authentic result declaration and simplified administration are among the many advantages of using
blockchain
in educational institutions. Educational regulators must have their eyes on the implementation of
blockchain
. It aids in digitising the records, maintains transparency, and makes the process of imparting education simpler, Let us look into the key areas where blockchain implementation will benefit educational regulators.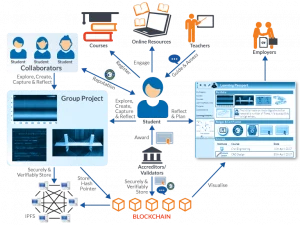 1. Maintaining Student Records
Blockchain
will simplify the laborious task of maintaining student records systematically. Records such as academic credentials, skills, certificates, degrees etc. can be collectively owned and maintained by a central administrator such as a university and students as well. Students will be equipped to store lifelong academic and
professional
authentic records. This may be useful while seeking employment as they can easily share the records with the employers. The hash chain system of maintaining a database in blockchain ensures encryption and transparency in records. Students cannot alter academic transcripts and educational certifications with fraudulent documents, while they may do that with paper records. Blockchain allows secure data entry and stores it with time stamps to ensure transparency and accuracy.
2. Enhancing Learning Process
The NEP-2020 released by the Government aims at diversifying the subjects and restructuring the rigid streams- Science, commerce, and arts. This allows high school students to take up multidisciplinary subjects for their 10+2 studies. The introduction of blockchain can help implement such a multiple-entry-and-exit structure. Alongside, blockchain can help the central bodies keep a strict check on compliance with the guidelines for the teachers. It could enable teachers to exhibit their credentials and experience, allowing students to receive an immersive learning experience from experienced teachers. Students can also showcase their academic rigour with elaborate merit certificates and skill badges. A blockchain-based ecosystem would make it feasible for institutions to track the progress of students and facilitate help to students lagging behind along with awarding consistent students.
3. Transparent and objective evaluation process
The present education system suffers from flaws in the evaluation process. It is adversely influenced by commercial considerations and other social biases. Blockchain technology offers solutions by introducing a faceless evaluation process, which is transparent. The whole examination process from the setting of question paper, distribution, evaluation and result declaration can be more transparent and objective through the ledgers of blockchain.
4. Efficiency and transparency in Educational Administration
Alongside maintaining academic transcripts, blockchain can be used for recording daily attendance reports, tracking assignment submissions, and extracurricular activities for the student. blockchain ledger would provide a time-stamped and tamper-proof record of faculty performance. It can be used as a ledger to record the fee payment of students and ensure no discrepancy exists. The introduction of blockchain will be beneficial in substituting tedious paperwork with an efficient digital database for maintaining all sorts of records, earlier stored physically. The varied applications of blockchain are effective, efficient, and secure. This will incentivise institutes to adopt them instantly. However, several alterations and arrangements need to be ensured before the implementation of blockchain in our education system. Students' track records are humongous data that require increased block sizes. This increased block size leads to increased transaction time for peer-to-peer consensus. Thus this anomaly needs to be addressed before a wide-scale implementation of blockchain in education. Alongside, before widespread implementation of blockchain in the institution, the staff and regulators must be well aware of its functioning and usage. Only then will they be able to use it for the betterment and simplification of the systems. Institutions must conduct orientation sessions for the staff to make them well versed with this new age technology so that it is feasible to use for them. Blockchain holds a plethora of opportunities and possibilities for the
education sector
. From the digitisation of records to e-resource books, it will make the sector more meticulous, accessible, and transparent. Both educators and learners will have facilities at their fingerprint to expand their horizons. However, before its full-fledged application, it needs to be ensured that the regulators are techno-savvy and are feasible with technology. This will ensure that the technology is exploited to its full potential. It will take time for blockchain to completely seep into the institutions but it is sure to revolutionise and bring about positive impacts.